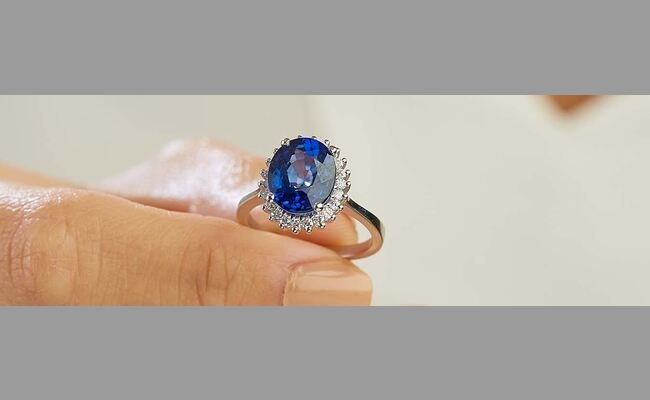 How To Care For Your Sapphire Ring To Keep It Looking Beautiful is our today's topic. Sapphire rings are stunning pieces of jewellery that exude elegance and charm. Whether you wear it on special occasions or as an everyday accessory, it's essential to care for it properly to ensure it remains beautiful and maintains its lustre over time. This article explains how to care for your sapphire engagement ring, from regular cleaning to safe storage, so you can enjoy its timeless beauty for years to come.
How To Care For Your Sapphire Ring To Keep It Looking Beautiful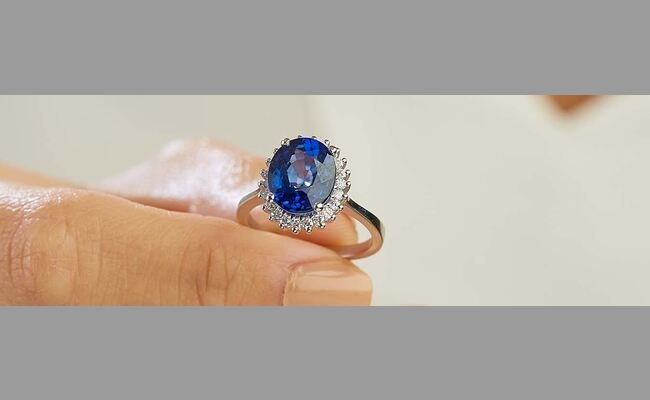 Cleaning Your Ring
Cleaning your sapphire ring is vital to keep it looking its best. Start by creating a gentle cleaning solution using warm water and mild soap. Avoid harsh chemicals or abrasive cleaners. They can damage the gemstone or its setting. Place your engagement band in the soapy water. Let it be there for a few minutes to loosen any dirt or debris. Next, gently scrub the stone and its setting using a soft toothbrush or a jewellery brush with soft bristles.
Pay close attention to hard-to-reach areas, such as under the gemstone or around the prongs, to ensure a thorough cleaning. Once you've cleaned your band, rinse it under warm water to remove the remaining soap residue. Finally, pat it dry with a clean, lint-free cloth, handling it gently to avoid any accidental damage.
Avoiding Chemical Exposure
Sapphire gemstones are durable, but they are sensitive to certain chemicals. It's crucial to avoid exposing it to harsh chemicals and substances that can dull its shine or even cause discolouration. Remove your ring before engaging in activities such as swimming in chlorinated pools, using cleaning agents, or applying beauty products like lotions and perfumes. These substances can erode the gemstone's surface or react with the metal, compromising its beauty and integrity.
Protecting Your Ring
Protecting your sapphire ring from potential damage is key to maintaining its beauty. Avoid wearing it when engaging in activities that can subject it to impact or abrasion, such as gardening, exercising, or doing household chores. Store it in a dedicated jewellery box or pouch to shield it from dust, moisture, and accidental scratches. Furthermore, consider removing it before going to bed to prevent it from getting tangled in bedding or damaged during sleep.
Professional Inspection and Maintenance
Even with proper care, sapphire rings may require professional inspection and maintenance from time to time. Having your band checked by a reputable jeweller at least once a year is recommended. A professional jeweller can assess the condition, including the setting and the gemstone, to ensure they are secure and undamaged. They can also perform maintenance tasks like tightening loose prongs, polishing the metal, or reapplying rhodium plating to white gold settings if necessary.
Avoiding Extreme Temperatures
Sapphires are resilient gemstones but can still be affected by extreme temperature changes. It's best to avoid subjecting your ring to rapid temperature fluctuations, such as exposure to extreme heat or cold. For example, remove it before using hot tubs and saunas or when engaging in activities like baking that involve high temperatures. These sudden changes in temperature can potentially cause thermal shock, leading to cracks or fractures in the gemstone.
Also Read: From Vinyasa To Restorative: Exploring The Diversity Of Yoga Classes
Preventing Scratches and Damage
Preventing scratches and damage is crucial to maintaining the pristine appearance of your engagement ring. While sapphires are relatively durable, they can still be susceptible to scratches if they come into contact with harder substances. Additionally, avoid wearing your band alongside other jewellery pieces that may potentially scratch or damage the stone. Store it separately from other jewellery items, ideally in a soft, lined compartment or individual pouch to prevent accidental friction or impact.
Caring for your sapphire engagement ring is essential to preserve its beauty and longevity. By following these guidelines, you can ensure that your engagement band remains stunning and radiant for years. Remember to clean it regularly using a gentle cleaning solution, avoid exposing it to harsh chemicals, protect it from potential damage, have it professionally inspected, and avoid extreme temperature changes. Hope you enjoy reading our article How To Care For Your Sapphire Ring To Keep It Looking Beautiful.